By Clara Jeanroy, Youth Ambassador NFH
"The key of unlocking the power of the forest is in the five senses. Let nature enter through your ears, eyes, nose, mouth, hands and feet."
In that simple, yet powerful statement from Dr Qing Li, a worldly renowned expert in Forest medicine and immunology, was maybe residing the reason why we were all gathered in this room, in this hall, in this Congress. Why all these several hundreds of people joined from all boarders of the Globe to discuss about our planet for 9 days, during the IUCN World Conservation Congress (International Union for Conservation of Nature).
Inherently, what drives most people to care and act for nature is their personal relationship to the living world. As any relationship, this connection develops through different types of interactions which are often mediated by our senses. You may, as you are reading these lines, remember with a smile the feeling of an animal's fur under your fingers, the calming fresh and iodine breeze of a walk on a beach or the view of sunlight playing through the leaves of a tree.
But what to do if people stop experiencing all these sensations because nature is hardly accessible or because they never learned how to connect with it? Unfortunately, urban spaces have been a critical area where this disconnection has been happening and where people have been undergoing its adverse effects.
It is on this observation that Luis Alberto Camargo (Founder and Director – OpEPA), Victoria Reynal (Sustainability Consultant – JESC), Shreya Utkarsh (Officer – ICLEI European Secretariat) and Stefania Romano (Global Coordinator – ICLEI Africa) were conducting a session during the IUCN World Conservation Congress on "Connecting with Nature in Cities".
It appears that despite the challenging context of urban spaces, when it comes to connecting city dwellers to nature, solutions bloom at all scales.
An international campaign launched by ICLEI (Local Governments for Sustainability), IUCN and The Nature Conservancy, named "Cities With Nature" (https://www.citieswithnature.org/) is currently connecting about 190 cities spread over 58 different countries in a platform with tools and resources to ensure the sustainable transition of cities.
Meanwhile, REGREEN (https://www.regreen-project.eu/), a project funded by the European Union's Horizon 2020 research and innovation programme, is promoting Nature Based Solutions in European and Chinese cities. One of the aims of this project is here to stimulate health and wellbeing through urban nature.
As such, the solutions presented in those global initiatives help to create an international momentum to stimulate nature and sustainability into cities, which in turn offers "a potential opportunity for people to experience nature and develop their sense of connection to it" (Anne Cleary, Research Fellow at The University of Queensland, The Conversation).
Several local initiatives also address these issues and tie international action to the tangible reality of on-the-ground communities. For example, a project in Bogota (https://opepa.org/) focuses on bringing children and schools to natural areas of the city, sometimes rarely visited. Consequently, children can meet, learn, and connect with the living world while breaking barriers between socio-economic classes. Here, nature becomes both the element and the connector: the space that children bond with and the space where they bond together.
These human and nature links extend to different generations and can even reinforce family bonds: By connecting adults to natural places, they become empowered by new knowledge. They can in turn pass it on to the new generation, simultaneously strengthening the intergenerational bond and the connections between kids and nature. This special relationship of children is more than crucial if we want to spark within them the desire to protect the environment that will soon be in their hands. As the environmental educator David Sobel once stated: "If we want children to flourish to become truly empowered, let us allow them to love the earth before we ask them to save it".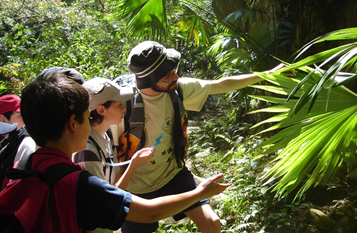 (Source: https://opepa.org/)
All these projects give hope to the future of city dwellers' relationship to nature. However, what can we do, individually and aside of any program to strengthen our own connection? You may guess it already and as such I will invite you on experiencing it: This evening, tomorrow or anytime you feel a bit overwhelmed, leave your technology behind and go to your nearby natural space. Practice forest bathing and take your time, focus on letting go and on your senses. Finally, appreciate feeling rooted within yourself, just like the tree into the ground, while though its leaves, plays the sunshine of a spring day.